Why Namiki 1

Pursuits of low prices and short delivery times in direct deals

Namiki Shoji established direct business flows with both of suppliers and customers and conducting direct deals.

Thanks to this way, we can provide products and services to the clients with the best condition.
Meaning of delivery time to us
We regard that the "delivery time" always includes the time of "product search" before getting the item in hand.
Based on this idea, speed of quotation reply is also regarded as a very important factor to realize the short delivery time.
Strategic partner
Keeping above things in mind everyday, we are aiming to become a strategic partner of our clients in improving research efficiency by providing products and services from overseas suppliers.
Why Namiki 2

Close relationship with overseas suppliers and years of experience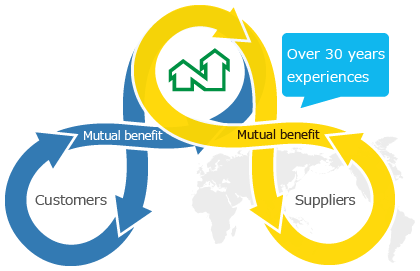 Namiki Shoji is a trading company that imported and sold screening compounds for the first time in Japan.For over 30 years since then, we have been conducting ongoing transactions with a total of over 500 suppliers.
We visit more than 50 suppliers every year to strengthen our relationship.
Our corporate philosophy of "By mutually beneficial commercial activities, we grow together with our clients", of course, covers overseas suppliers too, and we have been continuing to grow through mutual beneficial businesses with them.
This attitude has been gathering praises from overseas suppliers and it's leading to close relationship building with them.
Why Namiki 3

【Namiki Shoji when you are in trouble】 Compound search ability trusted by customers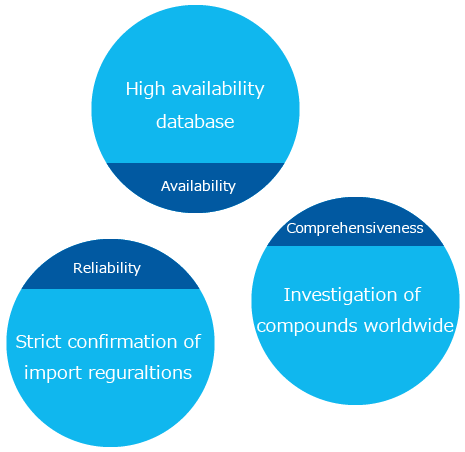 Namiki Shoji makes it possible to comprehensively investigate items handled by compound suppliers all over the world by widely utilizing commercially available compound databases in addition to our in house compound database that contains only high-availability compounds.
In addition, by keeping close communication with those compound suppliers, we are proposing only qualified suppliers that can provide comfort to the customers.
We are frequently said that "If we cannot find it with Namiki Shoji, we give up".We have been gathering continued many supports from our customers acting as "Namiki Shoji when you are in trouble".
Why Namiki 4

Online Compound Search Database


Namiki Shoji is providing an online system 『ChemCupid®』 that allows you to search screening compounds and reagents that are actually available from oversea suppliers.
Researchers
This system is a free of charge and unique database that can search only high-availability compounds and it is used by more than 3,000 domestic researchers for their internal use.
Suppliers
The overseas suppliers are providing a lot of compound data to expand their business opportunities, and its abundant data are contributing on researchers to reach the appropriate source of compounds.
Thanks to this synergistic relationship, ChemCupid® is growing day by day.
We are realizing our philosophy of "our role of connecting customers and overseas suppliers" and "growing of all of three by mutal relationship" through this ChemCupid®.
Why Namiki 5

Numerous business experiences of custom synthesis

Numerous business experiences of custom synthesis with overseas CROs.

Importance of a selection of CRO
When we mention about CROs, we can say that there are good and weak points in the view of area of specialty and technology to each CRO.
We think the CRO that has stuitable capabilities to the certain request could respond it with a good price and a good success rate etc, in many cases.From this point of view, we believe that the selections of CRO is one of the important factors.
As we are keeping to know the expertise and technologies about multiple CROs,we are able to propose the best CROs according to the customer's requests.
Why Namiki 6

Wide range supports of procurement from laboratory scale to bulk scale.
Discovery

(mg)

Lead optimization

(g)

Process development

(kg)

Production

(t)
Namiki Shoji is able to offer desired compounds from every research stage in milligram scale (Discovery), gram scale (Lead optimization), kilogram scale (Process development) and ton scale (Production).We are proud of our ability to propose wide range of suitable suppliers according to the customer's requests of quality, budget, delivery time etc.